On the flight to Queenstown we had the pleasure of being looked after by the most unique flight steward I have ever seen. Bruce. I promise I have not changed his name for the purposes of humor. It was his real fucking name!! He was not your average squeaky clean, size six, five foot eight inches air stewardess.
No.....Bruce looked exactly like a Bruce!! He looked like he had stumbled back from an early 90's ACDC or Barnesy concert. He was XXL, about six foot two inches, had a two day stubble, and used a
Floordrobe
. His face looked grey and dehydrated, and his eyes were red. He looked like he helped himself to the business class minibar - A LOT!!
Bruce seemed like a very angry person, and did not look comfortable on the plane. Each time he walked down the aisle, his large frame swiped the passengers. His neck was permanently bent as he stooped to avoid hitting his head on the roof. Bruce was pissed off about something. His aggressive demonstration of how to to fit a life jacket made me scared. He served drinks and snacks by grunting and throwing them at the passengers. No one dared complain or Bruce would punch the shit out of them. It was an interesting flight and every passenger sat there, stared straight ahead, and shut the fuck up. Thank god we made it to Queenstown without being headbutted, eye gouged or glassed.
At our arrival at Queenstown we boarded a small chartered flight with
Air Milford
and made a grand entrance into Milford Sound. Our pilot, Hank, provided the perfect commentary as he flew us over jagged snow covered peaks thousands of feet in the air in a two million dollar plane. We swooped down over glaciers and amazingly high waterfalls. It felt like the world was ours and we had this amazing wilderness all to ourselves. The day was perfect. Clear blue skies and a perfect view for miles.
When we checked into
Milford Lodge
we discovered they had mixed up our booking and had double booked
OUR
Riverside Chalet. Some other bastard was relaxing in our room!! The fuckers!!
However the good news is, they said, because it was our honeymoon they would let us stay in the backpackers section free of charge.
Great........ communal living in cardboard rooms with no soundproofing when on a honeymoon is just fucking great!! Our bed was comfortable but the room was so disappointing in comparison to our stolen Riverside Chalet. But we didn't have a choice, there was no other accommodation and no transport out of Milford Sound until the next day. I sucked it up but felt slightly embarrassed hanging around with cool backpackers with their neat compact backpacks. I had a massive 25kg bag filled with my entire wardrobe, (which Lord Daa Doo honourably dragged around) plus GHD straightened hair, Shellac nails and lip gloss. What a princess!! A true Lady!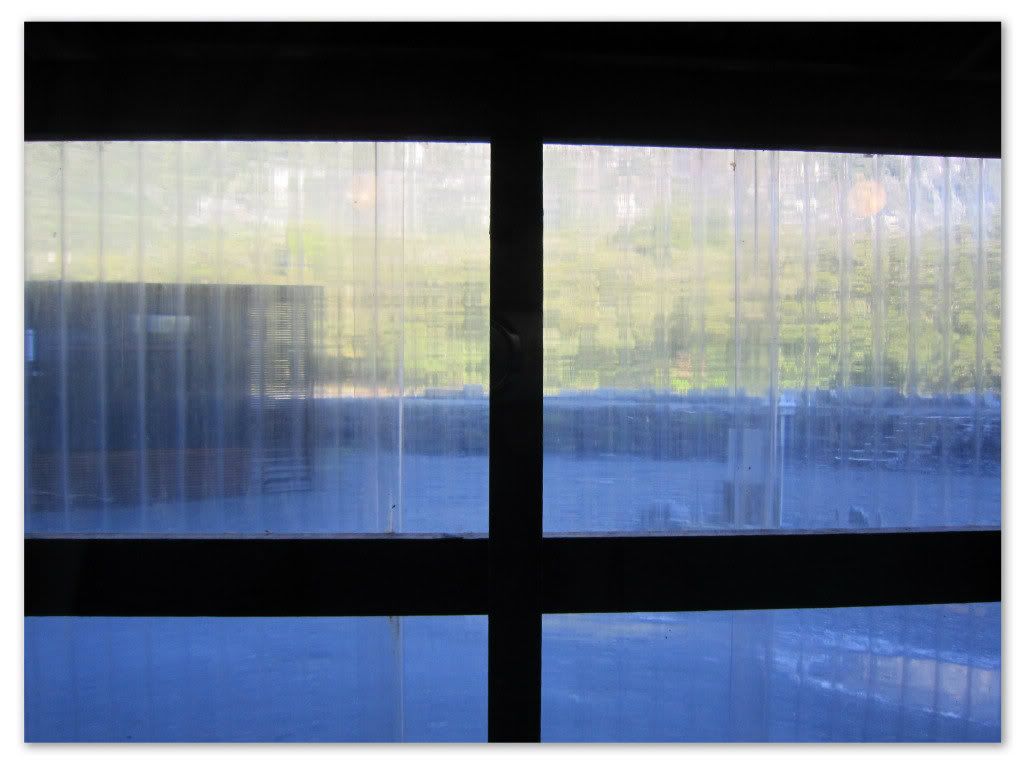 The view from our room
Comfy bed, but trying to squeeze my fat arse up the side - impossible!
This was the room we were meant to have - sob!! source
Never mind. It was OK. We dumped our bags, wrapped ourselves in thermals, and headed out to explore. Our eyes feasted on amazing clear rivers and sheer mountains. Our lungs dined on the purest air I have ever snorted. We walked around for hours.
Our first day in Milford ended with a visit to the one and only bar, where we enjoyed some lamb bangers and mash. As dark fell, we consumed copious volumes of alcohol in order to brave the freezing 15 minute walk back to our accommodation.
It was fucking dark. It was fucking cold. It was so dark, we could not see what was ahead. it was so cold I felt like my runny nose was freezing on my face. I tried to focus on the white line on the road, but it was too dark to even see that. Thank goodness for the light of Lord Daa Doo's iPhone. It saved us from falling into an icy ditch.
We ended the night stumbling around the river with our necks craned watching the most spectacular sky. So many stars. We crawled into our cardboard room, bitched about the people staying in OUR Riverside Chalet, and slept soundly - Milford Soundly.
Stay tuned for part two - Where we meet the residents of our Riverside Chalet and take a cruise.