Sourced from ABC Newcastle website
Yesterday was a strange day. It was hot. 36 degrees. It was gusty. Around 90km to 100km per hour winds. Our plan for the day was to visit my sister and her kids. As we drove to my sister's house in Salt Ash, I mentioned to Lord Daa Doo I felt scared. The wind was blowing so hard, there was a lot of tree debris on the road. Something didn't feel right.
Once I was at my sister's house, any strange feelings were soon forgotten. I was enveloped in the usual fun, jokes, toilet humour, laughing children, cuddles, coffee and iPad games. Just another Sunday visit.
We were enjoying our coffee, when we got a call from my sister's father in law. There was a fire 5kms away at Brownes Road next to The Tilligerry National Park. He said it looks big and suggested my sister turn on the bore water sprinklers that surround the house.
We went outside. We could see the smoke rising into the sky. The hot westerly wind was blowing hard. Perfect conditions for a bushfire. This was not good. My mood changed back to fear.
Once the sprinklers were on, we went back inside, turned off our iPad games and switched to the Emergency Services scanner App. We listened to Rural Fire Service activity, as reports and directions were broadcast over the scanner. We monitored the status of the fire and heard roads had been closed. The fire had jumped the Lemon Tree Passage Road and spread across to Rookes Road. We heard EMS operators warn helicopters of exploding gas cylinders that were shooting debris high in the air. We heard the occupants in Brownes Rd and Rookes Rd had been evacuated. We also heard the devastating news that a house had been lost.
My sister made a phone call to her friend on Brownes Rd. Her friend was sobbing, she'd been evacuated, the fire had reached her house and she didn't know if it was lost. She was afraid for her horses and animals. She told my sister she will never forget the sight of flames rising into the air over the trees. That's when shit just got real. My sister got off the phone, we looked at each other and didn't know what to do. What was our plan? Do we leave or do we stay?
We went back outside, and could hear the helicopters flying overhead. We could see the smoke filling the air and could hear the distant wail of sirens. I went back inside and looked at the
NSW Rural Fire Service
website. I read the latest update of the fire. There were 50 firefighters battling the blaze and it warned the embers from the fire were travelling 6kms ahead of the fire front. It advised occupants in the area take precaution and to follow our Bush Fire Survival Plan. We didn't have a plan. We were about 4kms from the fire front and if the wind changed we were at risk. We had four children in the house including my sleeping baby.
My sister received a text from another local friend. She'd just evacuated. We started to panic. Her friend only lived around the corner and if she had evacuated we must be at more risk than we thought. I instructed my eldest niece to get herself and her younger siblings prepared just in case we had to leave. My mother who was also visiting, continued to listen to the Emergency Services broadcast for updates. Lord Daa Doo moved the sprinklers so they were wetting the house. He tried to keep the roof wet, but it was useless, the hot wind was drying it as quickly as he was wetting it.
If the wind changed, or if embers from the fire front landed on my sister's house, we would be at great risk. At 3:30pm we made the decision to leave immediately. It was best to leave before any formal evacuation warnings were given. If we waited until the last minute, we would be held up by all the other residents trying to evacuate. With a baby and small children we didn't want to take any unnecessary risks.
Once we made the decision. We packed necessary items very quickly, loaded our cars with dogs and kids and left the house. Driving away was eery. There were local residents walking around to have a look at the fire. Cars and horse floats filled with animals were waiting by the side of the road ready to leave. Evacuated residents were camped waiting for news of their property. The police were directing traffic and had created a roadblock to stop people entering the fire zone.
My sister and her children took refuge at my house until it was safe to return home. She left my house at about 9pm that night and joined her husband who had returned home from work. She told me they didn't sleep very well, and they almost evacuated in the early hours of the morning when the fire flared up again and burned another house.
Upon reflection, we made the right decision to leave but it took us a while to arrive at this decision. We were complacent, slow and unorganised. We had no plan. I've never had a Bush Fire Emergency Plan. I guess I always thought just because I live in the city, I am at no risk.
How stupid of me! I should have a plan!! I visit rural friends, and I do travel through the Bush at times. I need to know what to do and what the safest options are.
I was scared and I was especially scared because we had children with us. Even if we live in the city. We all need a
Bush Fire Survival Plan
.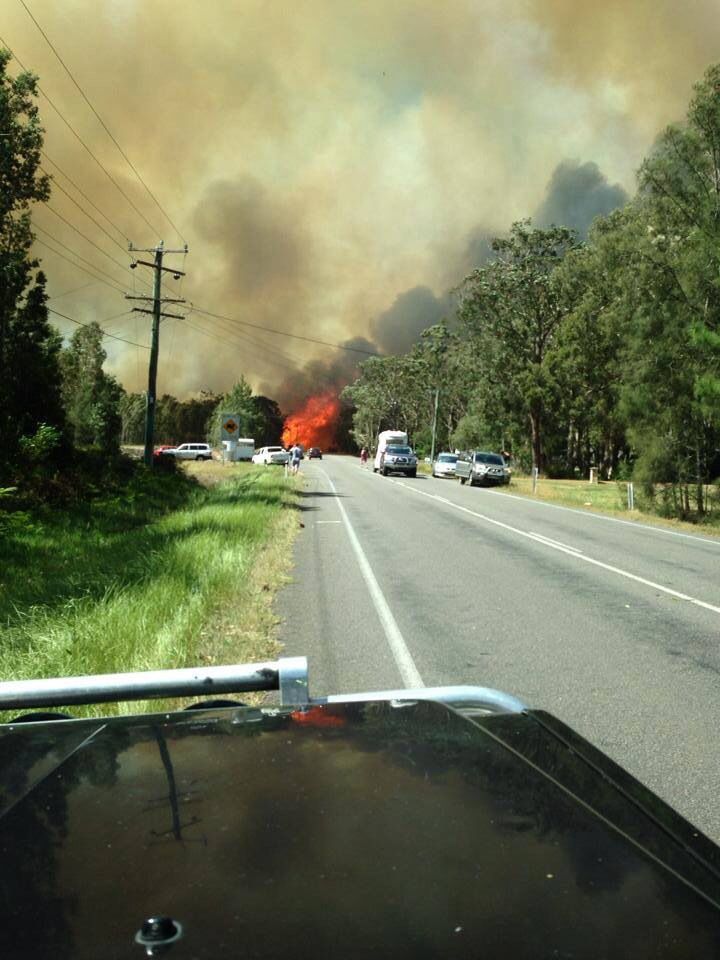 Lemon Tree Passage Rd. Photographed by my sister's friend Alison.
Lemon Tree Passage Rd. Photographed by my sister's friend Alison.
Picture by Phil Hearne - sourced from the Newcastle Herald
Picture by Phil Hearne - sourced from the Newcastle Herald
Picture by Phil Hearne - sourced from the Newcastle Herald
Picture by Phil Hearne - sourced from the Newcastle Herald
At the time I posted this story on my blog, over 50 hectares have burnt and 6 homes have been lost or destroyed. The fire continues to burn. Investigations are still determining if the fire was deliberately lit.
Firefighters are attempting to contain the fire and thankfully a cool change has arrived. More hot weather is predicted for Thursday, so firefighters are back burning and containing the fire in preparation for the scorching weather predicted later in the week.
Stay safe and get a Bush Survival Plan. Would you know what to do?